OBDII to iPhone / iPad / iPod Touch / PC
Sensor Module Interface
Green Driving Learning Tool
Standalone MPG Scan Tool
2 1/16" (52mm) Basic Touch Screen
2 1/16" (52mm) Color Gauge
Wideband with Fuel Select
Wideband UEGO Controller
30PSI, 3 Bar Manifold Pressure
K-Type T.C. EGT Controller
Oil Pressure Sender
Water and Oil Temperature Sensor Controller
K-Type T.C. AIT Controller
USB Data Logging Interface
For DM-6, DM-100
For DM-6, DM-100
For DM-200
4 Button Replacement
Power, USB, 2.1mm Cable
Required for Gen1 Sensor Modules
Bosch Wideband LSU 4.2
SM-AFR to O2 Sensor Cable
M18 x 1.5mm Pitch
M18 x 1.5mm Pitch
Swivel Mount with Adhesive
K-Type 1/8 NPT" Sensor
K-Type 1/8 NPT" Sensor
VDO Sensor, Wires Connectors
VDO Sensor, Wires Connectors
Power, 2.1mm Wires and Terminals
2 1/16" (52mm) Color Gauge
60mm (2 3/8") Color Gauge
Single USB Output
Gen2 Dual USB Output
Wideband AFR and OBD II Gauge Combo
OBDII to Android / PC / Linux / Symbian / N9
OBDII to Android / PC / Linux / Symbian / N9
Wideband AFR Gauge Combo with Health Monitoring
710 Lumen Digital Focus
USB Multi Meter
Water Resistant Carrying Case
Water Resistant Carrying Case
Male USB to Micro Male USB Cable
Kiwi Bluetooth
$79

99
Buy Direct Save $35.00
For more product information, please click on the tabs below.
Overview:
Kiwi Bluetooth is a plug and play automotive tool that connects through the onboard diagnostic port (OBDII / CAN) in cars made in 1996 to current. Kiwi Bluetooth installs in seconds to interface with your car's computer and sync with your Android mobile device through a wireless Bluetooth connection. The Kiwi Bluetooth allows you to efficiently monitor your car's MPG, analyze the log, diagnose trouble codes and monitor real-time engine performance. Vehicles that are 1996 and later are all equipped with an OBD2 port making it compatible with 1996 and later vehicles. It incorporates an elm327 compatible interface and it works with ISO9141, VPW, PWM, and CAN protocols.
Features:
Depending on the application,
the following features may be available:
Check Engine Diagnostics
Real-time gauges
Fuel Efficiency and MPG
Engine Sensors
Customizable Dashboard
Real-time Dyno
Data Logging
GPS Track Mapping
Skid Pad
Video recording and data overlay
Product reviews are currently unavailable.
Apps
Video
Technical Specifications
Included Items
OBDII Sensors
Awards
Software Development
Kiwi Bluetooth is compatible with:
All apps are third party and purchased through the Google Play Store.

Dash Command

Torque

Enerfy

OBD Autodoctor

OBD Droidscan Pro

DragFX

alOBD ScanGenPro

ScanXL for PC
DashCommand for Android Phones
*Compatible with PLX Logger 3.0
WANT GAUGES? This is the app for that. DashCommand is the ultimate OBD-II supplementary vehicle instrumentation application available for the iPhone and iPod touch. The built in dashboards can display a total of 27 gauges pulling data directly from your ride's engine control module. Also use DashCommand as scan tool to read and clear the trouble codes that caused the "check engine light" to turn on, a trip computer, or a race day companion.
--- SEMA Show 2009 1st runner-up for best mobile electronics product.
--- Winner of 9 Global Media Awards at SEMA Show 2009
Additional Features:
Professional skidpad showing lateral and accel/braking Gs with min/max indicators
Race track visually maps out your location, acceleration and braking as you drive laps around the track allows you to visually analyze different race track laps to see how acceleration and braking changed from lap to lap thus helping you to improve your lap times on your next outing.
Inclinometer shows rolling angle and vehicle pitch for off-roading.
Full support for OBD-II diagnostics, find out why your check-engine light is on and clear diagnostic trouble codes (DTCs)
Data logging, record and playback log files showing OBD-II data and skidpad/race track data simultaneously
Torque
See what your car is doing! Torque is a vehicle / car performance / diagnostics tool that connects to your OBD2 engine management / ECU. Torque can use the GPS to provide logs with engine logging so you can see what you were doing at any point in time. Torque can also show and reset a DTC / fault code like a scantool.
Torque also has:
Dyno / Dynomometer and Horsepower/HP
0-60 timings - see how fast your car is (or truck :))
Massive fault code database for allowing lookup of fault codes from many different manufacturers
Send logging information to web or email CSV/KML for analysis via excel / openoffice
Heads up display / HUD
GPS Speedo/Tracking - see what you were doing and your engine, at a point in time
Turbo boost feature for vehicles that support MAP sensors
Alarms (for example if your coolant temperature goes over 120C!)
Works on any vehicle that supports the OBD2 standard (most vehicles built after 2000 (diesels after 2004) but can work for vehicles as far back as 1996) - if in doubt check with your manufacturer first or look for 'OBD2' written on a big white label in your engine bay. Torque has been reported to work on vehicles made by GM/Vauxhall/Opel, Ford, Chrysler, Mercedes, Volkswagen, Audi, Jaguar, Citroen, Peugoet, Skoda, Kia, Mazda, Lexus, Daewoo, Renault, Mitsubishi, Nissan, Honda, Hyundai, BMW, Toyota, Seat, Dodge and many more vehicle makes. More features added every release - forums at
https://torque-bhp.com/
Enerfy
Enerfy® is the platform for all vehicle types, where driver can participate and compete in energy smart driving. The driver is only one of many external circumstances that contribute to the total fuel consumption. With Enerfy® you know how energy smart you drive, regardless of traffic, road conditions, weather, total fuel consumption or other external factors. Enerfy® is the perfect platform for the driver that enjoy competing, understanding the true fuel consumption, save fuel and contribute to lower carbon emissions.


Features:
Compete and meet anyone, regardless where and what vehicle the competition drives
Compare how energy smart you drive, regardless where and what vehicle the competition drives
Personalized feedback as to drive energy smarter
Head to Head, challenge a friend in energy smart driving
Detailed statistics on your driving activities
Friends, chat and share information
Messages, let the community know your best tips on cars and driving
OBDAutoDoctor - Car OBD Tool
OBDAutoDoctor is the premier Android OBD app for auto enthusiasts. With this easy-to-use OBD-II diagnostic application, you can communicate with your car's On Board Diagnostic (OBD) system and turn your mobile or tablet into a highly capable automotive scanner tool. Whether you want to read and monitor vehicle data in real-time or reset "check engine" light, this is the only OBDII software you need.
Read monitor statuses to make sure your car is ready for Smog Check
Read DTCs, Freeze Frame and clear the MIL
Send OBD diagnostic information using e-mail
View OBD-II parameter and sensor data in real-time
Numerical and graphical presentation of the OBD data
Fuel economy for gas and diesel engines
Read Vehicle Identification Number, Calibration Identifications and Calibration Verification Numbers of ECU
Support for both imperial and metric units
DTC database with over 14000 trouble codes including manufacturer specific codes
And much more
Check the app website for more information and differences between the Lite and the Pro versions. The free Lite version can be upgraded to the Pro using Google Play In-App Billing. It's a convenient way to upgrade the app to have all the features unleashed.
OBD Auto Doctor will get new features and a lot of updates in the future. Upgrade to the Pro version now and get all the future updates for free automatically. Under no circumstances will the developer of this application be held responsible for incidents resulting from the use and/or interpretation of the data in the application.
OBD Droidscan Pro
This all-in-one Vehicle Diagnostic and Performance Scanner lets you view real-time data and Check Engine Light trouble codes from almost any OBD-II (1996+) vehicle. You can view vehicle data and record vehicle data for future viewing. Re-load saved scans and even export saved scans to Excel spreadsheet. With one simple command you can read the vehicle trouble codes (Check Engine Light) and save them for future viewing or use the email feature to send them to someone. It will also let you clear your trouble codes and turn off your check engine light with one simple command. *Super quick refresh rate allows for optimal real-time scanning. This app will allow you to read the following from your car's on board computer:
Speed
RPM
Mass Airflow
Manifold Absoule Pressure
Boost (PSI)
Ignition Timing Advance
Throttle Position
MPG
Engine Temperature
Intake Air Temperature
Fuel System Status
Long Term Fuel Trims
Short Term Fuel Trims
Barometric Pressure
Ambient Air Temperature
Engine Load
Fuel Pressure
Fuel Level (%)
Engine Run Time
Equiv Ratio
Oxygen Sensors (O2 Sensors)
*Or simply enter your own CUSTOM PID's. This is great if you have a list of your vehicle's specific PID's. You can enter your own PID's and specify the math you would like to perform and the desired units you would like the pid to display.
Record live OBD-II Data in real time and save it for future viewing.
Export your saved scans to Excel
Scan live fuel economy in imperical or metric.
Set fuel economy calculations to use MAF or MAP mode.
Read PSI/Boost (For turbo/supercharged cars)
Customize the layout of obd parameters on the screen.
Show readings in imperical or metric.
Advanced ELM327 Adapter Reset/Information Readout.
Show current trouble codes.
Save current trouble codes.
Email current trouble codes.
Turn off (Reset) Check Engine Light.
This app also gives you tips and suggestions to help you through processes.
*Developed by professional OBD-II tuners with 15 years field experience in OBD-II Automotive vehicle flashing and diagnostic scanning. This app is great for tuners wishing to view/record all the important parameters in a nicely laid out easy to read screen.
*Works on all vehicles that have an OBD-II interface (Most vehicles made on or after 1996)
*Tablets*
- This app is optimized and will work on all screen sizes, including tablets!
*Support*
- Feel free to contact us at any time with questions, issues, suggestions, etc:
info@obdandroid.com
.
* Bluetooth Connection*
- Note, any experience of not being able to connect to your vehicle may mean another bluetooth enabled app is holding the connection to your Kiwi Bluetooth. Make sure any other bluetooth apps are not connected to the Kiwi Bluetooth.
*Pandora*
- If you have Pandora on your phone and are unable to connect to your Kiwi Bluetooth, try disabling Pandora and reconnect.
*Features*
- If you don't see something in the app that you would like to see, shoot us an email request. We are currently working on the next version and want to know what you want that we are not yet giving you!
DragFX
Want your car to sound like an expensive muscle car? Now you can! DragFX requires a Bluetooth OBD adapter. The adapter allows DragFX to connect to your vehicle's OBD (On-board Diagnostic) interface, to allow the sound produced by DragFX to accurately match your engine's actual RPM in real time.

Without the OBD adapter, a slider allows manual control of the RPM to preview the available engine sounds.


alOBD ScanGenPro
This application is designed to provide basic automotive diagnostic and vehicle data collection. The intended audience of this product is car geeks that are familiar with the operation of an engine control computer, vehicle sensors and generic OBD parameter set. This application may also be suitable for a professional shop for a quick diagnosis of the vehicle's emissions system.
Diagnostic features include:
Collect, view & export up to 4 OBD2 PIDs
Read & clear present/pending DTC
Detect supported PIDs
Take & export OBD PIDs snapshot of your car
Speak out PID value
Vary rate of data
Create, show & export custom data stream
ScanXL" Professional
ScanXL" is our professional line of diagnostic scan tools. Built on top of our advanced scan tool technology, ScanXL" delivers the full range of generic diagnostics for any OBD-II compliant vehicle sold worldwide, along with providing manufacturer-enhanced diagnostics for many vehicle types. It gives you access not only to the powertrain systems, but also ABS, airbag, and other proprietary systems that would otherwise require expensive dealer tools to work with. It allows viewing, charting, logging and playback of diagnostic data in real time via the vehicle's OBD-II diagnostic data port. It also allows viewing of vehicle Diagnostic Trouble Codes (DTC's), Freeze Frame data, and other vehicle information.
ScanXL" supports 1996* and newer vehicles whether it be US, Asian, or European.
Supported OBD-II protocols: SAE-J1850 (PWM and VPW), ISO-9141, ISO-14230 (KWP2000), and ISO-15765 (CAN).
Visit our user forum for discussion and information about ScanXL", product features, and new releases.
J2534 Overview
Legislation has mandated that vehicle manufacturers meet J2534 standards for all emissions related systems on all new vehicles starting with model year 2004. This standard enables independent service repair operators to program or reprogram (reflash) emissions related ECUs on a wide variety of vehicle manufacturers with a single hardware interface. Our ScanXL" Professional diagnostic software supports all J2534 compliant pass-thru OBD-II interfaces. If you plan to buy or already use a J2534 interface in your service or repair facility to update vehicle software calibrations, our ScanXL" product will be the perfect addition to your tool set. With no additional hardware costs, ScanXL" Professional will give you access to dealer-level diagnostic capabilities for thousands less!
Manufacturer Enhanced Diagnostics
If you are the owner of an independent service or repair facility then you know that good tools can mean the difference between being able to find and fix the problem, or having to send the customer elsewhere. With generic only OBD-II scan tools you often cannot service some vehicle systems like ABS, airbag, or other proprietary systems. Using our ScanXL" diagnostic scan tool, you now have access to dealer-level diagnostic capabilities for not only the powertrain systems, but also ABS, airbag, and other proprietary systems that would otherwise require expensive dealer tools to work with*.
We currently support the following vehicle types:
| | |
| --- | --- |
| Ford, Lincoln, Mercury | (1996-2009) |
| GM | (1996-2009) |
| Mazda | (1996-2009) |
| Chrysler, Dodge, Plymouth, Jeep, Eagle | Coming Soon! |
| Toyota, Lexus, Scion | Coming Soon! |
*Requires purchase of an enhanced diagnostics add-on package.
ScanXL" Features
Vehicle Manager
Using the ScanXL" Vehicle Manager you can keep track of multiple vehicles and owners simultaneously.
All vehicle specific information is stored in the Vehicle Manager.
Automatically keeps track of VIN (if available) and date and time of last diagnostic session.
When adding new vehicles, supports easy vehicle lookup through the built-in vehicle database.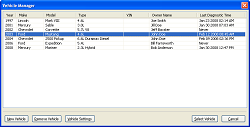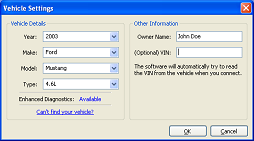 Virtual Dashboards
With our patent-pending DashXL" technology you get high quality dashboards on any screen size.
Highly configurable realistic looking gauges.
Gauges can be moved, resized, and laid out to resemble your own dashboard.
Virtual dashboard layouts can be loaded and saved from pre-existing templates or your own custom creations.
Gauges can be configured to report the minimum, maximum, and average values of the parameter being monitored.
Highly configurable graphs allow simultaneous graphing of up to 8 parameters per graph.
Tables can be placed on virtual dashboards and customized to report any parameters you want.
Maps can be placed on virtual dashboards and customized to display a full 3D view of any desired parameters.
You can set up an unlimited number of gauges, graphs, tables, and maps on your virtual dashboard.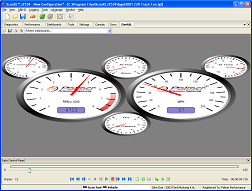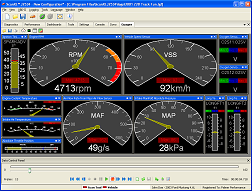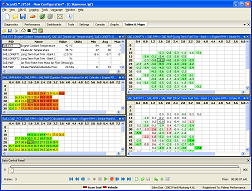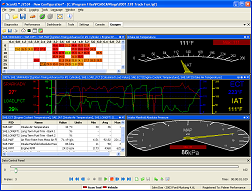 Drag Strip and Dyno
The drag strip displays a countdown and timing light and measures your launch and reaction time. At the end of your run, you get a timeslip with the stats from the run.
Measures reaction time, 60' time, 330' time, 0-60 MPH, 1/8 mile ET, 1/8 mile speed, 1000' time, 1/4 mile ET, 1/4 mile speed.
If you use aftermarket performance parts, the new digital dyno feature will let you test horsepower and torque to measure their impact on your vehicle's performance-- just try out the dyno and see if those parts were worth the money!
Supports both English and Metric units of measurement.
Data Logging
Currently supports over 220 generic OBD-II parameters, including O2 sensors.
You can record and playback log files in real time (1ms logging accuracy).
You can save and load your log files for offline analysis.
Playback speed can be adjusted to play faster or slower than real time.
There are no restrictions on how much data you can log, it is only limited by how fast your OBD-II interface cable can send the data and by how much memory you have in your computer.
English and Metric (SI) unit measurement systems supported.
Customizable log file data export to .CSV file for easy viewing in other programs like Excel.
Export with real-time stamps for easy correlation with external data logs.
PIDs can be assigned priorities to speed up the data capture rate.
Full support for data log file bookmarks - if you notice the engine misfiring or some other problem, using the log file bookmarks you can just reach over and press F6 to add a bookmark into the logged data that is being recorded. Then you can come back at any time and see exactly where the bookmark is and view the surrounding frames of data to analyze the problem.
Trouble Codes
Read stored and pending Diagnostic Trouble Codes.
Clear the Check Engine or Service Engine Soon indicator light.
Read and clear stored Freeze Frame data.
Supports thousands of vehicle trouble code definitions.
Test Results
Read the status of Continuously and Non-Continuously Monitored Tests.
Miscellaneous
Full support for printing and print preview.
All of the different views, including the virtual dashboards, support printing/print preview.
For those who possess a knowledge of the OBD-II protocol, ScanXL" provides an OBD-II Terminal where you can send custom commands to the vehicle.
For the power users out there, ScanXL" has built-in Javascripting support to do custom calculations on OBD-II parameters and data.
Configurable alerts system - the alerts system allows you to configure the software to monitor any parameter(s) you like. When the specified conditions are met, the software will automatically play a sound (to warn you if you are driving) or insert a bookmark for you into the logged data that is being recorded.
Link Indicator LED
Power Indicator LED
6' Cable
OBD II Plug
| | |
| --- | --- |
| Physical Dimensions: | 1.25 x 2.72 x 0.60 (inches) |
| Power Consumption: | 1.24 Watts (Typical) |
| OBDII/CAN Protocols: | ISO-9141,VPW,PWM,KWP 2000,11Bit,29Bit CAN |
| Compatible Vehicles: | 1996 and later vehicles |
| Operating Temperature: | 0 - 80 Degress Celsius |
| Operating Voltage: | 10 - 18V |
| Wireless Standard: | Bluetooth versions 2.1/2.0/1.2/1.1 |
| Range: | ~50ft line of sight |
| Enclosure: | Automotive grade |
| Compatible Apps: | Torque, DashCommand, alOBD Scan Gen Pro, OBDriod, VoyagerDash, PLX Logger |
Kiwi Bluetooth Main Unit
User Manual
* All applications are downloaded through the Android market.
Some apps may need to be purchased separately from the Kiwi Bluetooth.

Depending on your vehicle and the application that you choose to use, sensor support will vary. However in most vehicles the following sensors are reported through the onboard diagnostic port.
RPM
Vehicle Speed
Throttle Position
Engine Load
Absolute Engine Load
Engine Timing
Air Intake Temperature
Coolant Temperature
Ambient Air Temperature
Intake Pressure (MAP)
Air Flow (MAF)
Fuel Pressure
Fuel Pressure Relative
Fuel Level
Barometric Pressure
Catalytic Converter Temperature
ECU Voltage
OBD Type
Short Term Fuel Trim (Bank 1)
Long Term Fuel Trim (Bank 1)
Short Term Fuel Trim (Bank 2)
Long Term Fuel Trim (Bank 2)
Oxygen Sensor Voltage1 (Bank 1)
Oxygen Sensor Voltage1 (Bank 2)
Oxygen Sensor Voltage2 (Bank 1)
Oxygen Sensor Voltage2 (Bank 2)
The Kiwi Car to Smartphone line of products has received these awards:
SEMA Best New Mobile Electronics Entertainment Award 2010
Numerous Global Media Choice Awards 2010-2011
Popular Mechanics Editors Choice Award